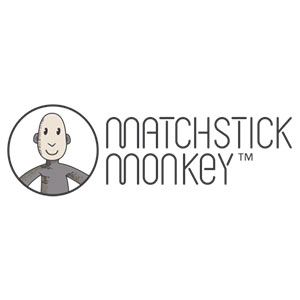 Matchstick Monkey (Dusty Pink)
Matchstick Monkey is specially designed to help teething babies, pass through this period with ease. It is a fun flexible teething applicator, which aids pain relief getting teething gels and granules right to the source of the pain with the bumps at the back of its head.
"I did all I could by trying to apply pain relief gels/oils and granules directly to the source of the pain, but I just couldn't get past her front teeth without constantly getting bitten. For those that have gone through this process before, you already know how painful a single bite can be. I could not find anything on the market that could help me to get past those first few teeth and massage the teething gel to my daughter's sore gums without getting badly bitten. So when I gave birth to my second daughter Coco, Matchstick Monkey was born." -Katie Windridge, creator of Matchstick Monkey
Help your little ones overcome their teething challenges with this amazing toy that offers fun, comfort and act as a learning aid to babies from a young age.
CARE INSTRUCTION:
Matchstick Monkey should be CHECKED and CLEANED before each use. To clean, simply use soap and water.
It is sterilizer-safe and freezer-friendly. For boiling or steam method, maximum of 5 minutes only.
SAFETY AND SUITABILITY:
Matchstick Monkey products are tested to the highest standards. All of the silicone we use is BPA-free, FDA and CE certified food grade silicone.
Testing and Safety Certificates
EN71-1, -3 and -9 Toy Safety Directive
EN71 Part 12 – Nitrosamines and Nitrosatables for soothers and teats
REACG 1907/2006 EC Article 57 and Annex XVII SVHC (169)
Age Suitability
For babies from 3 months to 3 years
₱ 795.00
Only 1 left in stock (can be backordered)
Only logged in customers who have purchased this product may leave a review.